As I was 33 and my son 5 years old I've decided to impress him and to arouse his interest for the origami art with some simple but funny figures I could still make. He found the jumping frog very funny but not worth to be learned. More than in my frog he was interested in Star Wars. So he asked me, if I could make a star fighter of Luke Skywalker (X-Wing). I said "yes" without any Idea how to make it. But I knew we live in a 21-st century and we have internet and someone had certainly build and posted it already. My search was quickly and successful. I've found the X-Wing model designed by Philip Schulz.
But due to my lack of experience compensated or better increased by the great self-confidence I was unable to understand the instruction and even didn't try it. I've confound the base figures and started with a bird instead of frog base. In result I've got something similar to an X-Wing but this X-Wing missed two wings one on each side.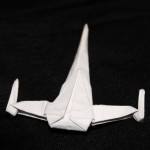 I've looked at my model and suddenly had an idea. If I could modify the wings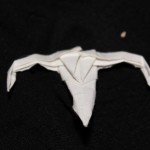 and shape the command bridge…
The first version of the "bird of prey" was ready. But this was rather a distant memento of a bird of prey. I have made a rough model with command bridge, wings and disruptors but the sensor module was still imperfect. At this place, where the sensor module had to be placed, the model was too thick and inflexible. It was a self-contained four-layered piece of paper that was wrapped around another, rolled in to four layers of paper. After some thoughts, I've found the solution. I've modified the bird base so that the upper part was no longer an isosceles, right-angled triangle, but an isosceles trapezoid that I could open at the top (smaller side), which provided me extra paper for modeling. My first bird of prey I have made out from small "Post It", which was probably not greater than 5.5 cm x 5.5 cm.
In purpose of creation of sensor module I've tried to shape the bird of prey out form a bigger square. I've took right origami paper in size 20cm x 20 cm. In the following picture you can see that I was faced several problems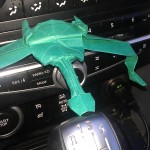 On one side I saw that the length rates are not well balanced and the sensor module has still wrong shape. After some experiments I've got an result that could be shown
 Instruction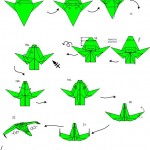 Paper Size
Te size of paper and its thickness are important to origami. For this model I recommend to exercise on a right large paper 20cm x 20cm but as soon as you think you've got it, change to a smaller one 15cm x 15cm or 10cm x 10 cm. I prefer 15cm x 15cm. Of course you can use also smaller squares. Remember the thicker the paper the harder is it to fold
Optimization
If you now made this model several times try to change steps 13 with steps 15 till 16b.This is the way to reduce some unnecessary folds.
Some steps which would help you to shape the model better looking are only hard  to show in diagram, therefore I will soon post an video

Galery