Story
In October 2012, I began to compare my models to those I've found on the Internet. I stumbled across two versions of Defiant. Till now I'm not sure if those were actually two different versions.
One could be identified as a Defiant only because it was presented in the Star Trek context. The recognition from a photo alone was hardly possible. The other version was shown in a video, This model was obliviously simple folded and  recognizable. The model embodied rather a schematic representation of Defiant. Many details were indicated but not emerged properly. For example, the saucer section with the bridge was painted  and not folded.
Development
I took the challenge to develop a more detailed model. From my experience with Klingon Bird of Prey and the Miranda class, I knew immediately the roughly steps on the path to the model. Also for this model I chose the bird as a starting base.
Even the first version, although it was still far from the perfection, was clearly recognizable as a Defiant.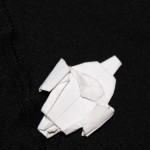 I then tried various modifications for arranging an authentic bridge section.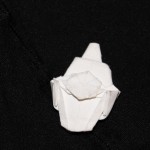 Until I was quite happy with the shape. Over time I added more details to the rear. Defiant was also the first model in which I introduced the labeling,
that later I've replaced by textures.
Instruction and Tipps
For this model I usually use a square that is not larger than 15cm x 15cm. With larger sheets, the model looks a bit awkward, despite textures. The paper you use may also  not to be too small. Othewise it will be considerable difficult to fold details in the rear and on the tops of the nacelles connections with the ship. Enjoy folding and report if some steps are not clear.