With this model, I have tried to leave the  base forms for I have used so often. I wanted to create a Star Trek model upon an entirely different base figure. This turned out to be more difficult than I thought first. The USS Kelvin seemed to be the ideal candidate. She has little details and is in contrast to other symmetrical about the saucer section. It has two gondolas: one top center and the other bottom center. The basic figures I have used before frog and bird base allows the right to left positioning of the gondolas only.
First draft
For my first project I chose the Water Bomb Base. But that was not a real break from the usual forms, because pretty soon I came to a hybrid of water bomb and frog base. The frog-rag I was up and down to form the gondolas from them and from the central triangle I tried to make the saucer section.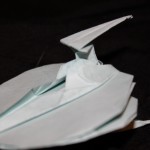 The incurred figure was only a schematic representation with allusions to the parts of the ship. The problem  in this release was that both gondolas were the same size top and bottom. Of course it's easy to shorten one of the gondolas, but the proportions were already become not quite right. The saucer section was in relation to the gondolas too large.
Fish Base
That was the reason for me to start completely fresh with this model. This time I decided to take as a basis the fish base figure. From two small triangles I would form the saucer section and from the two lengths of cloth, the gondolas.
The prototype was to be seen.
The problem with this version was the same that with figures based at  frog and water bomb. The rump is
open
contains more wrinkles than the front
making it even more open looks than it is
There are several solutions for this problem:
The first solution, which I also used, is wet folding.

In this technique, the seams should be moistened slightly.
The water dissolves the glue present in the  paper and the paper can be better formed
Fixed to the wrinkles and makes the models dry they retain the folded form permanently

The second solution is the choice of material

You could use aluminum foil instead of normal paper. This is easily folds and keeps the form of the fold.
Lack of aluminum foil I decided for wet folding.
Outlook
After finishing the model I have noticed that the fish base makes some more basic models possible: Freedom class, Saladin class, Hermes class – ships that differ only slightly in the design of the saucer and the gondola. Otherwise, these vessels are created equal. All have a respective gondola below, which can be formed as mentioned in the Kelvin from the bottom flap and the upper flap can be used for more details of the saucer.